The solution
First, the team developed Sentinel-AI, a bespoke AI system comprising transformers and graph neural networks. It integrates inputs from multiple sources, including government agencies, veterinary practices, on farm-technology and abattoirs, and analyses the incoming data in real time while respecting the privacy of its sources.
In the process it develops a 'picture' of typical patterns of livestock health, from season to season, which allows it to detect and flag any anomalies that may be indicative of disease. Ultimately, it will enable all stakeholders including disease response teams to get ahead of the curve and make better-informed decisions in real time.
As with any artificial intelligence and machine learning application, Sentinel-AI's performance relies on consuming vast amounts of data. Having built the application, the team's challenge was to attract stakeholders to contribute their data to help train the model.
Those with the potential to have the greatest influence on Sentinel-AI's development are livestock veterinarians. Vets are also in the frontline for capturing clinical data – a challenging task with limited tooling available.
Much of a livestock vet's work is done in isolation, standing in a paddock trying to diagnose a farm animal; they jot down notes in a diary, throw it into the glovebox then drive on to the next job. At the end of the month, under pressure fro
m the accounts team, they try to piece it all together to create an invoice.
"There was a eureka moment," says Brownlie. Ingenum and Qrious recognised the opportunity to turn the problem into a solution and create a win-win for both vets and Ingenum.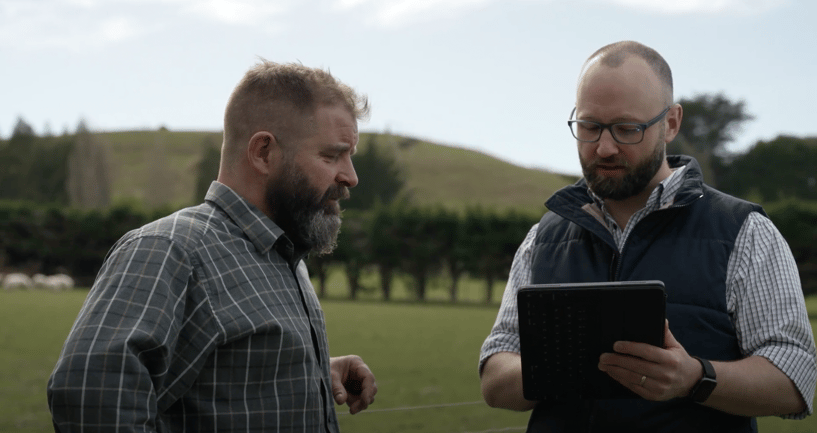 Ingenum's Tom Brownlie (left) and Qrious' Head of Technology, Christopher Laing
"The value that Qrious has brought to Ingenum has been huge. I can't imagine another group suggesting that a [large] language model is the solution, that it will change the future of veterinary medicine. But Qrious did. And then they built it."
While the veterinarian's notes allow the app to generate invoices, their observations and enhanced records can also be 'pinged' back to the early warning system, which will collate and assess them alongside its knowledge base and other veterinary data from the area. Once armed with this wealth of information, it will be able to alert the vet if it notes an irregularity.
"More importantly for us, if the vet advises that it's not a cause for concern, we can remove the alert and Sentinel-AI learns as a result."
So, while MaVIS solves an onerous daily task for vets, it will also provide a deeper understanding of what's happening with livestock and whether it forms part of a larger picture when coupled with Sentinel-AI.